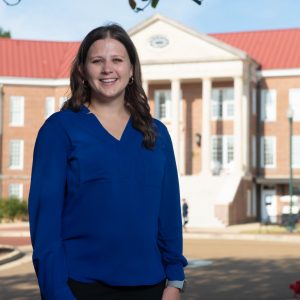 As a student, the School of Education and Guyton Hall are where I truly felt at home on campus. This is the place where I met my friends who were from all over the United States. It's where I found professors who truly wanted me to succeed and invested so much in me. It's also where I found a love for learning. The advisors within the School of Education helped make sure that I was taking the classes that I needed in order to get my teaching certificate in Mississippi that could then be transferred to Missouri in case I planned to return to my home state. The School of Education also gave me different teaching experiences in diverse settings so that I would be prepared for the educational field. I credit the School of Education for who I am today. I would love to help you find a home on this campus much like the one I found! Hotty Toddy!
Personal Information:
Hometown: St. Louis, MO
Degree: B.A. Elementary Education; M.Ed. Curriculum and Instruction
Territory:
Illinois, Kansas, and Missouri
Contact Information:
Location: St. Louis, MO
Phone: 314-347-7075
Email: lucys@olemiss.edu
Need to book a meeting? Schedule me here.