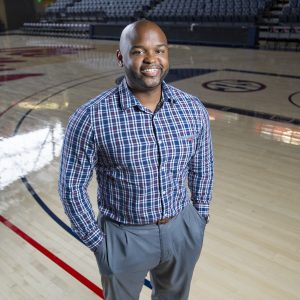 Assistant Director of Admissions for Mississippi Recruitment
When I arrived on campus, the very first building I entered was The Pavilion, and I was left speechless. I was in awe of its beauty and architecture. Knowing the many great players and people that have been on the court and the passion they have shown for this great institution, gave me a sense of pride and a higher level of respect for what Ole Miss has accomplished. Now as an employee of Ole Miss, I see that same passion, sense of pride, and level of respect in our students, faculty, and staff. There's no place that I would rather be, and no place that I would rather represent than Ole Miss. Hotty Toddy!
Personal Information:
Hometown: Fort Worth, TX
Degree: B.S. in Business Administration, B.S. in Finance, MBA in Accounting & Finance
Territory:
Benton, Calhoun, Lafayette, Marshall, Pontotoc, Union, and Yalobusha counties in Mississippi.
Contact Information:
Phone: 662-380-3475
Email: klmccuin@olemiss.edu
Need to book a meeting? Schedule me here.