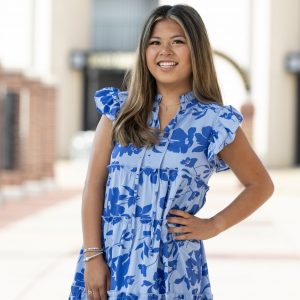 I want to preface that I am not the world's biggest football fan — if I'm being honest, about 70% of the time I do not know which side of the field we're trying to score on — but, I am one of the biggest fans of Vaught-Hemingway Stadium, home of our Ole Miss Rebels. Before coming to Ole Miss, I had never been to an SEC game, nor had I really understood what football truly was down south. I came from a town where we wore t-shirts and athletic shorts to football games, and now it's heels and dress. I felt like a fish out of water. However, the minute I walked into the stadium, I could feel the energy. I remember ending up in the first row of the student section, right behind the goal post (if anyone saw the 2019 Arkansas game, you may have seen me)! On the screen flashed the words, "Lock the Vaught," and suddenly everyone was linking arms and swaying back and forth. In that moment, I found my favorite Ole Miss tradition. It doesn't matter how much or how little you know about football, but I know the moment you enter the Vaught, you are family, and you are an Ole Miss Rebel. 
Personal Information:
Hometown: Louisville, KY
Degree: B.A. in International Studies and Spanish, Intel and Security Studies minor
Territory:
Alabama
Contact Information:
Location: Birmingham, AL
Phone: 659-837-8448
Email: jebel@olemiss.edu
Need to book a meeting? Schedule me here.