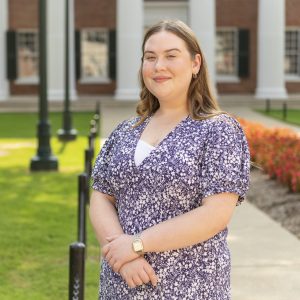 While Ole Miss is the most beautiful campus in the nation, I think the magic of Ole Miss comes from the memories you make with the people you meet. The spot between the Lyceum and the J.D Williams Library reminds me of the many early mornings and late nights spent with my best friends studying as well as the endless amounts of Starbucks runs. This campus has seen me grow up, and I will always call it home. It's the spot that ever calls, and I couldn't imagine my life without Ole Miss.
Personal Information:
Hometown: Laurel, MS
Degree: B.S. in Communication Sciences and Disorders
Territory:
Texas – Dallas and Fort Worth suburbs, East Texas, Austin metro
For a full list of counties in Texas, click here.
Contact Information:
Location: Dallas, TX
Phone: 945-290-3338
Email: emmagb@olemiss.edu
Need to book a meeting? Schedule me here.