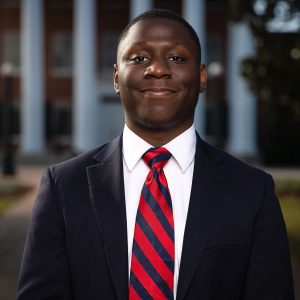 During my time as a student at the University of Mississippi, I was given many amazing opportunities to become heavily involved on campus. Each organization I was a part of, from Associated Student Body (ASB) to my fraternity, contributed to my development as not only a well-rounded person but also as s servant leader. Through many of these organizations, I spent a great deal of time traveling in and out of the Lyceum, which is home to many of my great experiences and ironically, the heart of the university too. As a first-generation college student, the organizations that I became a part of, truly helped me get to know and fall in love with the University of Mississippi. The friendships and connections that I have made go beyond college; they are lifelong. Looking back, I can remember the doubts and fears I had about going to a college where I knew no one, yet today I couldn't be happier that I took that risk as this place is now my home away from home.
Personal Information:
Hometown: Jackson, MS
Degree: B.A. in Political Science and B.A. in Economics
Territory:
Claiborne, Copiah, Hinds, Issaquena, Jefferson, Sharkey, Warren, and Yazoo counties in Mississippi.
Contact Information:
Location: Jackson, MS
Phone: 601-940-5316
Email: devan@olemiss.edu
Need to book a meeting? Schedule me here.