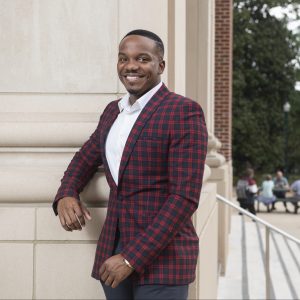 Coordinator of Diversity Recruitment
The Gertrude C. Ford Student Union has always been a special place to me. It's the center of student life here at the University of Mississippi, and it has definitely had a positive impact during my time as a student and now employee. The Student Union is home to most of our student organizations, a food court, and the CICCE (Center for Inclusion and Cross-Cultural Engagement). The Student Union provided a "sense of belonging" for me. As a food connoisseur, it definitely met my needs with the variety of food options and while in graduate school, the CICCE served as the place where I was able to help promote diversity across campus and beyond. As I look back on what the Student Union was to where it is now, I feel excitement to know that I can help bring about more change in different aspects on our campus.
Territory:
Attala, Carroll, Choctaw, Holmes, Humphreys, Montgomery, Washington, and Webster counties in Mississippi.
Personal Information:
Hometown: Oxford, Mississippi
Degree: B.A. in Human Resource Management; M.A. in Higher Education/Student Personnel
Contact Information:
Phone: 662-701-0782
Email: dljoiner@olemiss.edu
Need to book a meeting? Schedule me here.