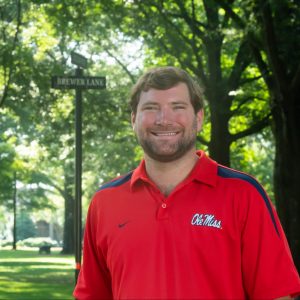 Brewer Lane, located in the famous and beautiful Grove, holds an extremely special place in my heart. My grandfather, Billy "The Dog" Brewer was the head football coach for the University of Mississippi from 1983 to 1993. He played football here from 1957 to 1960 and was part of the famous "Team of the Century" for Ole Miss. He currently holds the spot as the second most winningest coach in school history, right behind Johnny Vaught. Each and every time I walk past Brewer Lane it brings back memories that we made together and reminds me of what he was able to provide to the university during his time here. "Attitude, work habits, and discipline" are things he harped on and preached to his players and staff day-in and day-out. When I look around campus, those three things are what I see from each and every employee as well. I will always be grateful for the memories and the education that I received from Ole Miss, and I am beyond blessed for the opportunity to give back and show prospective students the glory this prestigious university has to offer. Hotty Toddy!
Personal Information:
Hometown: Memphis, TN
Degree: B.S. in Integrated Marketing Communications
Territory:
Arkansas, New York, and West Tennessee (Benton, Carroll, Chester, Crockett, Decatur, Dyer, Fayette, Gibson, Hardeman, Hardin, Haywood, Henderson, Henry, Lake, Lauderdale, Madison, McNairy, Obion, Shelby, Tipton, and Weakley counties)
Contact Information:
Location: Memphis, TN
Phone: 662-701-0775
Email: bbrewer@olemiss.edu
Need to book a meeting? Schedule me here.