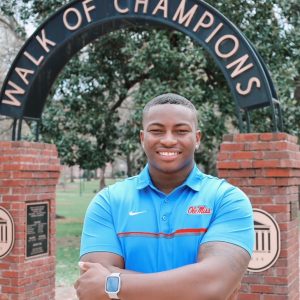 For me, the Walk of Champions is one of the most symbolic places on campus as it represents life itself. Much like our lives, you start from the beginning of its path, push around all of its twists and turns fighting an uphill battle, and defy all expectations to beat the odds by finally reaching your arch at the end. At Ole Miss, we are all champions! We are champions on the court and field, but also in the classroom and community. Ole Miss taught me that you do not have to be an athlete to be a champion, but if you compete to be the best version of yourself, then you are indeed a champion. I am excited to bring more champions to the University of Mississippi!
Personal Information:
Hometown: Oxford, MS
Degree: B.S. in Integrated Marketing Communications
Territory:
Alcorn, Chickasaw, Clay, Itawamba, Lee, Lowndes, Monroe, Noxubee, Oktibbeha, Prentiss, Tippah, Tishomingo, and Winston counties in Mississippi.
Contact Information:
Phone: 662-701-0783
Email: arik@olemiss.edu
Need to book a meeting? Schedule me here.