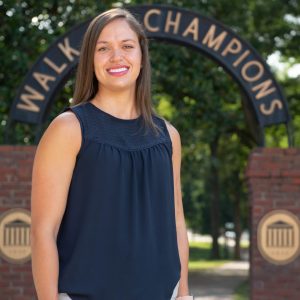 The Arch at the Walk of Champions is one of my favorite places on campus. Monday through Friday, you will see students, faculty, and visitors move along the Walk of Champions path as they pass through the Grove. However, on Saturdays in the fall, two hours before each home game, the Ole Miss football team is greeted by thousands of fans as they walk this path leading into Vaught-Hemingway Stadium. For this moment in time, the 'Walk' becomes hallowed ground as a sea of tents line the Grove and echoes of "Are You Ready?" roll through the tall oak trees. For me, the Arch at the Walk of Champions is symbolic for who we are at Ole Miss – champions. When you are a part of the Ole Miss family, you are a champion in the classroom and in the community. I'm excited to have the opportunity to help students from North and South Carolina become a champion at Ole Miss!
Personal Information:
Hometown: Meridianville, AL
Degree: B.A. in Business Administration; M.S. in Sports Administration
Territory:
Alaska, Arizona, Colorado, Hawaii, Idaho, Indiana, Iowa, Michigan, Minnesota, Montana, Nebraska, Nevada, New Mexico, North Dakota, Ohio, Oregon, South Dakota, Utah, Washington, Wisconsin, and Wyoming
Contact Information:
Location: Columbia, SC
Phone: 662-801-1213
Email: alison1@olemiss.edu
Need to book a meeting? Schedule me here.